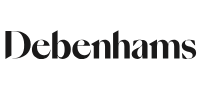 Debenhams has 153 stores across the UK and Ireland and a fully transactional website, reflecting Debenhams' commitment to offering their customers greater value, a wider choice and excellent service across every area in which they trade. Debenhams has a strong presence in all shopping categories, including womenswear, lingerie, beauty, menswear,...
Show more
Cashback Offers
No offers available for the moment.
Cashback + Promotions
No voucher codes available.
All offers listed are guaranteed to be available to members from Ireland
Similar Offers
Randomly selected offers from similar categories